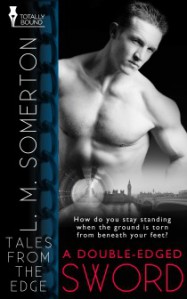 I've become somewhat (understatement of the year) addicted to the Tales from the Edge. I love the combination of suspense, love story, BDSM, and very hot scenes these books give me almost as much as I adore the characters featured in these stories.
A Double-Edged Sword tells the story of Christian and Becket who are perfect for each other. Becket needs to be in complete control as much as Christian needs to surrender totally to his Dom. From the very start of the story it is clear these two men are meant to be together, which makes it all the more cruel when Becket's job throws a spanner in the works and upsets the apple cart. Now these two men have to figure out what they are together when their roles are less clearly defined.
If I'm honest I have to admit that the subsequent conflict was far less angsty than it might have been. In fact, I think I would have preferred it if Christian and Becket had had to fight a little bit harder before resolving their issue. (Yes, I know that is strange, coming from me with my aversion to angst, but there you have it.)
But, as issues with a story go, this one was very minor. Overall I enjoyed getting to know Christian and Becket better and following them as they get closer together. The scenes between them are (of course) very hot and I absolutely adored Christian and how he responded to Becket's dominance.
I am so happy that the characters I fell for in the earlier books all make a reappearance in this one. Olly, as always, made me laugh out loud whenever he appeared on the page but it was equally as much fun to spend more time with all the others. I'm so glad I'm only half way through this series right now. I'm very much looking forward to whatever may be coming my way next. In the company of all these 'Edgy' men I have no doubt I'm going to be in for a treat.
A Weekend at the Edge
Tales from the Edge #4.1
Free Short Story
Buy Link: Pride Publishing
The blurb
A rare free weekend provides an opportunity for Heath and Aiden to reaffirm their roles as Master and sub. When Heath sets Aiden a challenge the prize is very tempting, but sometimes losing can also bring rewards.
My thoughts
As stated above this is a short story. In fact, I feel it would be safe to describe it as a scene rather than a story. But what a scene.
In A Weekend at the Edge the focus is on Heath and Aiden as they get to spend some rare and much needed time together while everybody else is away. Aiden has intrigued me from the moment I first 'met' him. I love his ambivalence when it comes to submission. He constantly fights Heath's dominance and his inclination to submit to it and yet, the moment he stops thinking about it and just goes with the flow (as indicated by Heath) he can't deny that it is exactly what he needs and craves.
Did I mention these two are hot together? Because, phew, they are. What's not to love about a prolonged session of tease and denial? You'd almost feel sorry for Aiden—almost but not quite.